There will be a Mega Man title on store shelves next year.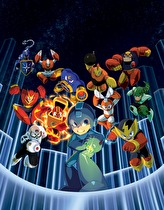 The release date for the Nintendo 3DS version of the Mega Man Legacy Collection has been changed to an early 2016 release. It was previously announced as a digital only winter release. A physical copy is now in the works, also with an early 2016 date. Capcom hasn't stated whether the two will launch together. This will be the first Mega Man title available in stores since 2010's Mega Man Zero Collection for the Nintendo DS
The Mega Man Legacy Collection contains polished versions of Mega Man 1-6 in a single download. Capcom has added save states, a museum, and an enemy database with Robot Master practice battles. The game also includes online features including leaderboards and replays. It's currently unclear what features will stay in the 3DS version. The title has been announced for Nintendo 3DS, Playstation 4, Xbox One, and PC.