We have confirmation of the rumored old school Amiibo package.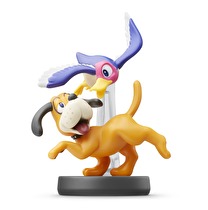 @Amiibonews on Twitter has confirmed that GameStop will be offering a 3-pack Amiibo bundle featuring Duck Hunt, Mr. Game & Watch, and R.O.B. figures. This bundle will be available in limited quantities for a $5-down minimum instead of the Web-in-Store process used for Wave 4. Doors will open early at 9:00 AM on Saturday, August 8th for pre-orders.
The rumor originated on Reddit , stating that early entry would only be available for PowerUp Rewards Pro members, but @amiibonews now claims that early entry will be open to all. The 3-pack is rumored to be a GameStop exclusive with each character available as an individual figure at other retailers. Each store will supposedly have its own allocation of about 30. Any preorders taken over this limit will not be filled. There is nothing to indicate any other Amiibo figures being available for pre-order on Saturday.
Confirmed. GameStop pre-orders for an exclusive amiibo 3 pack on Saturday. No pro membership required. More to come. pic.twitter.com/BPw73SpZjR

— Amiibo News (@AmiiboNews) August 3, 2015