Though their version is slightly different than North America and Europe's.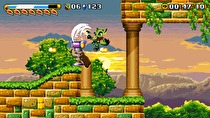 Australia and New Zealand didn't get to participate in the Nindies @ Home promotion during E3, but they'll get to do their own version starting tomorrow.
First reported by the Australian specialists at Vooks, the ANZ version of the program will run with three games each week for the next three weeks. Downloading the demos will still provide the 15% off the final product.
forma.8, Runbow and Extreme Exorcism demos will go live with the eShop update, to be followed by Lovely Planet, Rive and Typoman beginning 7 August. 14 August will see Mutant Mudds Super Challenge, Freedom Planet and Soul Axiom round out the offers.