UPDATED: Thanks to the ESRB, we know which ones will be added.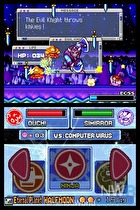 UPDATE: The ESRB has added listings for Kirby 64, Kirby Squeak Squad and Kirby Return to Dreamland, which indicates they will be the three games in question. The original story is below.
A lot of classic Kirby will be coming to the Wii U in North America this week to celebrate the pink ball's birthday.
Nintendo of America sent the confirmation as a Tweet earlier today:
To celebrate the birthday of everyone's favorite pink puffball, we're releasing 3 classic Kirby games in the #WiiU #eShop on 7/30!

— Nintendo of America (@NintendoAmerica) July 28, 2015
The three games have not been revealed, but there are eight candidates among systems currently available on the Wii U. They are:
Super Nintendo: Kirby's Avalanche
Nintendo 64: Kirby 64: The Crystal Shards
Nintendo DS: Kirby Canvas Curse, Kirby Squeak Squad, Kirby Super Star Ultra, Kirby Mass Attack
Wii: Kirby's Epic Yarn, Kirby Return to Dreamland
Note that the N64 and Wii games plus Kirby Squeak Squad are all available in Europe, and Kirby's Avalanche is on the Wii Virtual Console in all territories.