Un slime approachment! Ton command?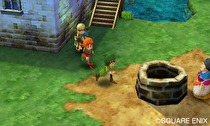 It turns out Fire Emblem Awakening wasn't the last 3DS RPG localization to spill out unintentionally.
In an appearance at Paris's Japan Expo, Dragon Quest series creator Yuji Hori confirmed that the games would be localized for France, at least:
Yuji Horii has just announced DQ7 and 8 will be released "in French"...?! Apparently a last minute announcement here at Japan Expo.

— Jérémie Kermarrec (@jkermarrec) July 4, 2015
The French release appeared to come as a shock to even the translator:
Horii actually did mention 3DS for Dragon Quest VII and VIII localization. The translator got upset when he did.

— MakuXV (@RedMakuzawa) July 4, 2015
No release date has been given for the European release, nor official confirmation that the game would come to North America. Dragon Quest VII released in Japan for the 3DS in 2013, while Dragon Quest VIII releases in Japan on August 27.