As the Wii U game enters lotcheck, some good news for those who bought in on 3DS.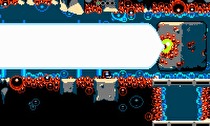 Some statements from Renegade Kid head Jools Watsham bring good news for existing owners of Xeodrifter.
In separate Twitter posts, Watsham confirmed that the recently revealed Wii U version of Xeodrifter has entered Nintendo lotcheck. He would later confirm to Nintendo World Report's Zach Miller that current owners of the 3DS version would get the Wii U version free, as it would be joining the Nintendo crossbuy program.
@zmiller1902 Throw your low hopes in the trash. 3DS owners of Xeodrifter will get a free Wii U game!

— Jools Watsham (@JoolsWatsham) June 29, 2015
Renegade Kid has already promised crossbuy for the upcoming Mutant Mudds Super Challenge in April's Nintendo Direct, and they would join Curve Digital's OlliOlli in the program for indie games.