The GG Series: The Temptation 2007 of the Nintendo download posts.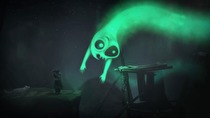 I'm an old game show fan, and one of the most memorable moments in game show history came on the first playing of The Price is Right's most immortal game, Plinko. During the explanation of how the game got its name, Bob Barker infamously said "Some of our people drink."
I relate this anecdote because it's the only reason why there are NINE DSiWare releases today in the GG Series (because who else).
In actual good North American download news, there's a couple of intriguing Virtual Console games that were covered last week, as well as the unlock of Art Academy: Home Studio and indie hits Never Alone and Shiftlings. Shiftlings also marks the debut of the new Sierra on the Wii U eShop. It's quiet on the actual 3DS sale, which should allow you to dive into some of Sega's 3D Classics during their sale.
Meanwhile in Europe, they get Yoshi's Woolly World an entire season early, the lucky sods. However, there's two pieces of Samurai Warriors Chronicles 3 DLC for every GG Series game, so we're not suffering alone.
North America
Wii U eShop
Art Academy: Home Studio (US$29.99/C$37.49) - Available for preload, $4/$5 off if Art Academy Sketchpad is on the same Wii U
Never Alone (Kisima Ingitchuna) ($14.99/$16.99)
Shiftlings ($14.99/$17.49)
Wii U Virtual Console
Star Fox Command (DS) ($9.99)
Mario and Luigi: Partners In Time (DS) ($9.99)
DSiWare (all $1.99/200 DSi Points)
G.G Series NYOKKI
G.G Series THROW OUT
G.G Series AIR PINBALL HOCKEY
G.G Series VERTEX
G.G Series GREAT WHIP ADVENTURE
G.G Series ENERGY CHAIN
G.G Series THE LAST KNIGHT
G.G Series RUN & STRIKE
G.G Series DRILLING ATTACK!!
3DS Themes
Comic Workshop 2: My Workshop ($0.99)
Harvest Moon: Chicken, Cow, Dog, Horse (bundle available) ($0.99/$1.19: Bundle $3.49/$3.69)
Sales and Price Drops
The Sega 3D Classics series 1 are 50% off ($2.99 from a regular $5.99) until July 2, covering the following games:
Space Harrier
Super Hang-On
Atered Beast
Sonic the Hedgehog
Ecco The Dolphin
Galaxy Force II
Shinobi III: Return of the Ninja Master
Streets of Rage
Baila Latino is $19.90 (from $29.99) until July 14.
Puzzle Monkeys is $1.49 (from $2.99) until July 23.
Stone Shire is $3.99 (from $7.99) until August 1.
Aqua Moto Racing 3D is $3.99 (from $7.99) until July 2.
Pyramids is permanently $1.99 (from $3.99).
Big Hero 6: Battle in the Bay will be dropped to $19.99 effective noon EDT tomorrow.
Conception 2: Children of the Seven Stars base price is now $29.99 effective June 29, while Attack on Titan: Humanity in Chains will be 25% off from June 29 to July 14.
European Downloads
Wii U Retail
Yoshi's Woolly World (€39.99 / £34.99) - Launches Friday, free download for Yoshi Touch & Go for Wii U (Virtual Console) on the receipt until 23 July
Art Academy: Atelier (€29.99 / £24.99) - Launches Friday, reduced by €3.99/£3.59 if Art Academy Sketchpad is owned on the same Wii U
Wii U eShop
Shiftlings (€14.99 / £13.99)
Cube Life: Island Survival (€6.99 / £5.39)
3DS eShop
Samurai Warrior Chronicles 3 (€39.99 / £29.99) - See eShop for the DLC pricing
Garfield Kart (€29.99 / £24.99)
Tappingo 2 (€2.99 / £2.39)
Wii U Virtual Console
Dr Kawashima's BRAIN TRAINING: How Old Is Your Brain? (DS) (€6.99 / £6.29)
Kirby: Mouse Attack (DS) (€9.99 / £8.99)
Kirby 64: The Crystal Shards (N64) (€9.99 / £8.99)
Special Offers
The following publishers have games on sale this week:
Atlus (Shin Megami Tensei 4 is 50% off through 2 July
EnjoyUp Games (Van Helsing Sniper ZX100 is €3.49 / £3.49 (regular €6.66 / £6.66) until 19 July)
Log Games (Puzzle Monkeys is approx. 50% off through 23 July)
Mobot Studios (Paper Monsters Recut is half price through 2 July)
Ripstone Publishing (Knytt Underground, Pure Chess Wii U and 3DS and Stick It To The Man are 50% off through 2 July)
Zordix AB (Aqua Moto Racing 3D is 50% off through 2 July)