First details of the latest Mario Sports game shows some oversize tennis!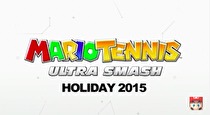 Mario Tennis: Ultra Smash has just been announced for the Wii U console, set to come out during the holiday 2015 period in North America. The game is the latest entry in a line of Mario Tennis games that span all the way back to the Nintendo 64, and was represented at Nintendo's Digital Event with the premiere of a gameplay trailer.
Both singles and doubles modes are apparent from footage released thus far, and Nintendo also made sure to show off power-ups that players can deploy on the court. One of these power-ups was a Mega Mushroom that, in typical Mario fashion, turned an on-the-court character giant-sized, presumably with extra reach and power. Smaller characters appeared at a disadvantage to these large players, and would have to leap into the air to hit back the tennis ball.
Stay tuned to Nintendo World Report as we scour E3 for more details on Mario Tennis: Ultra Smash and all the other Nintendo news afoot!