Happy Home Designer and prophetic Amiibo party are both coming this year.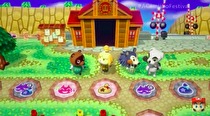 Animal Crossing: Amiibo Festival, a digital board game that expands upon Amiibo Party mode of Mario Party 10, has been announced as part of Nintendo's Digital Event. The board game will be based on a calendar concept, going through all the months of the year with changing seasons and seasonal events. Details are scarce, but apparently players can collect and save "Happy Points" to their amiibo and use them to expand the game.
Animal Crossing: Amiibo Festival will be launching Holiday 2015. Alongside the Amiibo-mandatory party game, Nintendo also announced a September 25 release date for another previously announced Amiibo-centric 3DS title, Happy Home Designer.