New transforming vehicles, the game's unique perspectives via the Wii U GamePad, and more were revealed in the Nintendo Digital Event.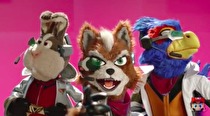 The Nintendo Digital event kicked off with first details for Star Fox Zero.
The game uses the GamePad to aim in smaller areas and the gyro for camera views, while showing third-person view of the craft on the TV. The game features flying Landmasters, transformable mobile Arwing walkers, and a gyro-copter for exploration based missions.
In a developer interview, Mr Miyamoto explained that Star Fox's flying through arches was inspired by Japanese temples and they want to encourage gamers to feel like they are flying. The vehicles, including a new gyrocopter, can transform into different vehicles and the levels can be explored with different vehicles each time.
Star Fox Zero will release Holiday 2015.