Happy Home Designer gets a release date, NFC Reader/Writer Bundle, special edition New 3DS XL and more in Japan.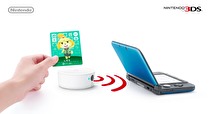 Animal Crossing: Happy Home Designer for the Nintendo 3DS and the respective Amiibo cards for the game are set to release on July 30 in Japan. The software will be released both at retail and digitally for 4,000 yen plus tax, while the cards, containing three cards in each pack, will retail for 300 yen per pack. One hundred different cards will be available at launch.
The Nintendo 3DS NFC Reader/Writer will also be released on July 30 in Japan. It will retail for 2,500 yen as a standalone product or be available in a special bundle with Happy Home Designer for 5,000 yen. On top of all of this, a special New 3DS LL (XL) for Happy Home Designer will be available on the same day for 22,000 yen preloaded with a copy of the game. For New Nintendo 3DS (non XL) owners, a special themed face plate will be available for 2,000 yen.
There is currently no solid release date for Happy Home Designer outside of Japan.