Complete with Amiibo support!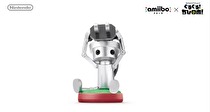 A new side scrolling title in the Chibi Robo series is headed to the Nintendo 3DS in Japan this fall. Titled Nagenawa Action Guru Guru Chibi Robo, the game has the tiny robot using his electric cord as a lasso, whip even as a grappling hook to attach to platforms and walls.
The title will also feature Amiibo support in the form of a Chibi Robo Amiibo which is set to be released at the same time as the game. During gameplay, if the Amiibo is read by the 3DS, it can turn the in-game character into Super Chibi Robo, a gold version of the little robot that is faster and has more health.
There is currently no word as to when Nagenawa Action Guru Guru Chibi Robo will release in the West.