Digital Event, more Best Buy demos, Nintendo World Championships, and more!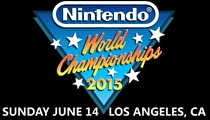 Nintendo has revealed their full E3 plans including a return of the Nintendo World Championship after 25 years.
To start things off, Nintendo will continue their tradition of having a Digital Event in order to make their big game announcements. This event will take place on June 16 at 9 a.m. PT.
Nintendo will also be bringing back their Treehouse Live event during the E3 show floor hours. This year, the live stream will have more games and more developer appearances than ever before.
If you want to try out some of the games at E3, don't fret. Nintendo is once again partnering with Best Buy to let fans play Mario Maker during the week at E3. Participating stores will have the game on hand on June 17 between 4-9 p.m., and again on June 20 between Noon and 5 p.m.
The last bit of news is that Nintendo is bringing back their famous Nintendo World Championships tournament during E3. No details have been given, but the event will happen on June 14 and players can try to enter the competition at participating Best Buys on May 30.