With a Circle Pad Pro and NFC adapter who needs a New 3DS?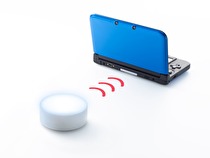 An external NFC reader for older 3DS systems (3DS, 3DS XL, and 2DS) is arriving in Japan this summer, according to Nintendo president Satoru Iwata.
This news was revealed at the company's latest investor meeting, during which Iwata stated that Nintendo is "making steady progress on compatibility with the Nintendo 3DS platform," and that an NFC reader/writer would be made availble this summer.
This add-on will bring Amiibo support to older 3DS models for games like Super Smash Bros. for Nintendo 3DS. Amiibo figures are currently only supported on New 3DS, which has an NFC reader built into the device.