Considering Wii U's install base, that's not too shabby.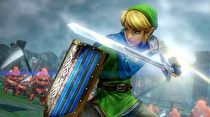 Hyrule Warriors, the Wii U exclusive hack-and-slash action game from Koei Tecmo, has shipped over one million units worldwide.
It's important to note that this figure is in regard to shipments to retailers, not sold through to consumers. Still, over one million is nothing to scoff at, especially when considering how small Wii U's install base currently is.
We were quite impressed with Hyrule Warriors when it launched last year. You can read our review here.