Nintendo is in the black as far as profits go.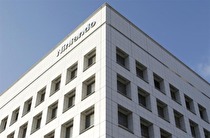 Nintendo has remained profitable in the third quarter ending December 31, but 3DS hardware sales are way down.
The Wii U sold a little more than 3 million units in 2014, compared to the equivalent time period last year in which approximately 2.8 million units were sold. However, the 3DS sales were down. While they sold 7.67 million units in 2014, this is down from last year in which they sold 12.89. The total 3DS sales for 2014 add up to roughly how many units of the system were sold just from October to December 2013. Wii U software sales were up while 3DS' sales were down.
Nintendo attributed the high sales of the Wii U with titles such as Mario Kart 8 and Super Smash Bros. for Wii U being released in this time period. Games that were steady sellers for the 3DS included Pokemon X and Y, Mario Kart 7 and Tomodachi Life.