Going to the premier Smash Bros. tournament this weekend? You can play some Splatoon there, too.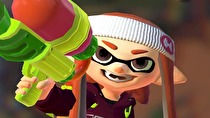 Splatoon will be playable at APEX 2015 this weekend in the Nintendo Lounge.
Folks going to the event, taking place this weekend in Secaucus, N.J., can play the four-vs.-four multiplayer that was previously shown off at E3 2014. The version of Splatoon playable at APEX will be the same E3 build.
APEX 2015 is a major fighting game tournament, best known for being one of the largest Smash Bros. tournaments in the world. Nintendo of America is teaming up with them, offering support for their Super Smash Bros. for Wii U tournaments. For more details, check out their website.