The latest game from Renegade Kid is coming to Nintendo platforms.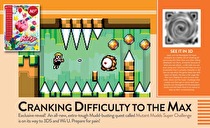 Mutant Mudds Super Challenge, the latest game from developer Renegade Kid, is coming to both Wii U and 3DS.
According to studio co-founder Jools Watsham, Super Challenge is a brand-new game that comes with a whopping 40 levels. Additionally, he notes that "Mutant Mudds Super Challenge does not replace Mutant Mudds 2. Think of it as more of a delicious stepping stone of fun and challenge."
Are you looking forward to a new entry in the Mutant Mudds franchise? Will you get it for Wii U, 3DS, or both platforms?