For a limited time, North Americans will have to buy the game bundle if they want the new SMB Mario.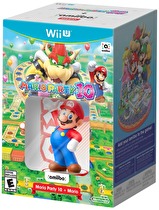 The new Mario figurine that's included in the recently unveiled Super Mario Bros. Amiibo line will be temporarily exclusive to the Mario Party 10 bundle in North America.
Over on Amazon, a listing for the upcoming Wii U party game confirmed the news. "For a limited time, the only way to play with the Mario Party Mario amiibo included!" the description for the bundle reads.
It does say "for a limited time," so Nintendo will likely release Mario as a standalone figure later on this year.
Mario Party 10 is set to launch on March 20, exclusively for Wii U. Will you be picking up the Amiibo game bundle to ensure you get that Mario figure?