Citizens of Earth and Punch Out!! arrive on the eShop this week!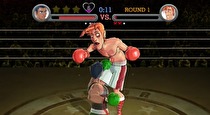 Another week, more games out on both the Wii U and 3DS! One game that's out on both systems is Citizens of Earth, an RPG that is heavily influenced by a certian SNES RPG that seems to be escaping my mind at the moment...hmm. Oh well, whatever it may be, Citizens of Earth is bound to be quite the interesting experience. Week 2 of Wii arrivals on the eShop continue as Punch-Out!! smacks it way to the eShop. Can you refine Little Mac's abilities enough that he can challenge Donkey Kong? And on the virtual console front, there's a game out called S.C.A.T.. Maybe this is where I should end this paragraph...
Wii U Downloads
Wii U Virtual Console
Nintendo 3DS Downloads
Nintendo 3DS Virtual Console
Sales
It's week two of the Throwback Sale! Save up to 50 percent on select games of past and current Nintendo console generations. This week's sale starts at 9 a.m. PT on Jan. 22 and ends at 8:59 a.m. PT on Jan. 29. You can check out what's for sale here.
Only one week left to take advantage of deals on hit indie games with the Super Indie Connection Sale #2. Now through 8:59 a.m. PT on Jan. 29, fans who already own any participating games or purchase one at full price during this promotion will receive 60 percent off other participating games. You can see the list of offers here.
Super Toy Cars is 50 percent off (reduced from $7.99 to $3.99) until 8:59 a.m. PT on Jan. 29. (Wii U)
Darts Up is 40 percent off (reduced from $2.49 to $1.49) until 8:59am PT on Feb. 19. (Wii U)
Retro City Rampage DX is 30 percent off (reduced from $9.99 to $6.99) until 8:59 a.m. PT on Jan. 29. (3DS)
Yu-Gi-Oh! ZEXAL World Duel Carnival is on sale (reduced from $19.99 to $12.99) from Jan. 24 through 8:59 a.m. PT on Feb. 6. (3DS)