If you've been waiting for more Monster Hunter, you're in for a treat!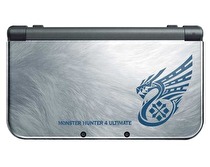 Monster Hunter 4 Ultimate not only has a release date, but also a limited edition New Nintendo 3DS XL model.
The game is due for release in North America and Europe on Febuary 13 along with the new Monster Hunter 4 New 3DS XL model. This model, which comes pre-installed with the game, will be exclusive to Gamestop retail chains in North America while a wider distribution will be seen in Europe. The bundle is set to be priced at $229.99 USD.
Gamers will also be able to try the game out before the release, as a demo is scheduled to be released on the eShop soon.