Nintendo's bringing some Wii classics to Wii U!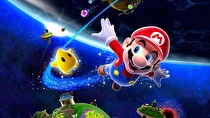 Super Mario Galaxy 2, Punch-Out!!, and Metroid Prime Trilogy are all coming to the Wii U eShop. These Wii games will work similar to Virtual Console titles and will launch directly from the Wii U menu. Additionally, Wii games that supported the Classic Controller will be playable by using the Wii U GamePad. Super Mario Galaxy 2 will be available after today's Nintendo Direct presentation while Punch-Out!! arrives January 22 and Metroid Prime Trilogy releases on January 29. All of the games will be half price for the first week after they release.
The line-up in Japan also contains Super Mario Galaxy 2, which will be released today. Donkey Kong Country Returns is set to arrive on January 21 while Hoshi no Kirby Wii (Kirby's Return to Dream Land) hits on January 28. All of the titles in Japan start at 2,700 yen, but like in North America, are half off for the first week, making them 1,350 yen each.