The download is free, but you'll still be spending money here.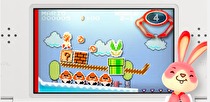 Home Menu Kazareru Badge Torēru Center (which could be translated as Decorate the Home Menu: Collectible Badge Center), a free home menu editor, is available on the Nintendo 3DS eShop starting today, December 17, in Japan.
While downloading the software itself is free, the application is more or less a digital crane game with numerous badges available inside several different crane machines. If you opt to pay 90 yen (about $0.76 USD), you have five tries to nab badges. As a special gift to users that download the application, the first five tries are free. Badges featuring the original 8-bit Super Mario Bros., Mario Kart 8 and Animal Crossing are available this week. More badges are set to appear every week while previously released ones may be replaced.
Creating your own theme menu is easy. 3DS owners simply choose their desired badges from a menu with the stylus and then place them where they like. Users can choose from already purchased themes or special themes from the new application to create brand new themes of their own. Just as before, the ability to post pictures of your new themes are still available. This time around, users can also post pictures of their creations on Miiverse as well.
There is currently no word on a release for Badge Torēru Center outside of Japan. To check out more about this application, be sure to check out the introductory video from Nintendo below.