Dragon Quest is getting the rhythm treatment next spring.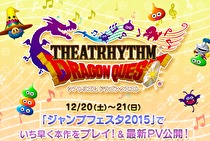 Theatrhythm Dragon Quest is coming to the Nintendo 3DS in Japan on March 26 and will retail for 5,800 yen (plus tax). Gamers in Japan will also have a chance to check out the game early at Jump Festa '15, which is taking place at the Makuhari Messe convention center on December 20 and 21. Up to this point, the Theatrhythm series has featured the Final Fantasy series, but music from other Square Enix games such as Romancing Saga and Bravely Default have appeared as downloadable content.
There is currently no news as to whether Theatrhythm Dragon Quest will be released outside of Japan.