Details revealed about a special collector's edition, a demo hitting the Japanese eShop and more.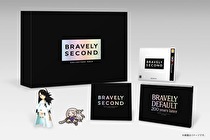 Bravely Second is set to hit the Nintendo 3DS in Japan on April 23. Not only that but a demo for the game is set to release in Japan's eShop tomorrow, December 10.
The stand-alone retail release will sell for 5,980 yen (plus tax) while a special collector's version will retail for 14,800 yen (plus tax) only at the Japanese Square Enix e-Store. The Collector's edition of Bravely Second includes the game, a special Pope Agnes figure, a hi-resolution data CD with a special-make mini-soundtrack, a U notebook, a rubber strap, a serial code for use in the game and an art and novel book called Bravely Default 200 Years Later: Shrine Maiden of the Wind, Edea Oblige.
Several different retailer specific bonus in-game items will also be available to players. Purchasing from the Square Enix e-Store will give players a Trinity Sword - a weapon giving in-game characters the Divine Night ability which returns HP to the user when Defaulting in battle. Amazon Japan has a katana called Demon Strike that comes with an ability called Shell Divide, reducing the target's physical defense while attacking. Buying from Tsutaya gives gamers the a special spear called the Holy Lance Garuda which uses the Haste ability to speed up simple actions for up to four turns. Lastly, Geo locations give gamers a bow-and-arrow called Dragon Breath with the Physical Up ability, increasing the target's physical attack Power.
There is currently no word as to when Bravely Second will come to the West.