But a little bit of unfortunate news for those who already pre-ordered ORAS.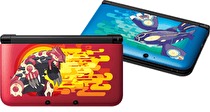 From December 8 through December 31, GameStop is holding a promotion called MegaStop in celebration of the release of Pokémon Omega Ruby and Alpha Sapphire.
To enter, buy participating Pokémon products either at your local GameStop or online at GameStop.com and then enter the code on the receipt at the official website. Every code redeemed will enter participants to win one of the Evolved prizes: one of 50 special edition Pokémon ORAS-themed 3DS XLs. Each code will also unlock a digital booster pack for Pokémon TCG Online from the new XY: Phantom Forces TCG expansion. And for a chance at the grand prize, the Mega-Evolved eight day, seven night trip for four to Hawaii, just redeem two or more of these codes during the event.
Qualifying purchases must be made after December 8 and before December 31. Code redemption, however, will be active until January 15.