Coming soon to fill the retro-inspired hole in our hearts left in the wake of Shovel Knight.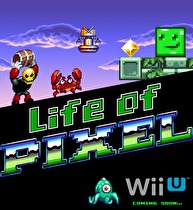 Super Icon Ltd. recently announced via Twitter that their retro-inspired, 2-D platformer Life of Pixel will be coming to Wii U soon.
Originally released on Mac and PC, Life of Pixel offers over 80 levels and unlockable content and features a large variety of level designs, gameplay and power-ups. While the graphics and sound bring to memory the old days of the NES, gameplay gives a wider picture of other platform styles as well.
Check out the trailer below and let us know what you think in the comments.