Enjoy Eden's foray in the role-playing genre slightly later than expected.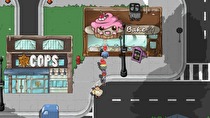 Citizens of Earth will now be coming out on January 20, 2015, Atlus announced on Friday.
The RPG, which was originally scheduled to release this month, sees the Vice President of the world on a quest to save it. For this, he will ask help from various members of society. Together, they'll have to complete quests and uncover the strange occurences that have been happening all over.
Citizens of Earth is slated for release on both Wii U and Nintendo 3DS, and will be priced at $14.99/€11.99.