If Capcom's next western release of Monster Hunter happens to be New 3DS compatible, here's how it would work.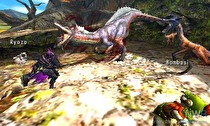 The C-stick would add the most to Monster Hunter 4 Ultimate in North America if it were to be New 3DS compatible, according to Director Kaname Fujioka. Monster Hunter 4 Ultimate is currently set for an early 2015 release in North America.
"I think the biggest change, if it come to the new 3DS, should it come out in your region, the C-stick makes a really big difference. It allows you to have direct control over the camera as well as the ZL and ZR buttons," Fujioka detailed. "These are things that were part of the Circle Pad Pro. But it was kind of nice to have the in one place. It gives you the freedom and it allows you, if you used to have the D-pad for camera control, you can remove that and put something else there. It should make it a little more user friendly depending on your play style. It may make it a little easier to use."
You can read more about Monster Hunter 4 Ultimate and our interview with Fujioka in our preview as well.