A Mario Kart: Double Dash!! track is a part of the upcoming DLC pack.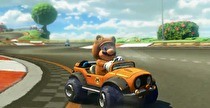 Yoshi Circuit from Mario Kart: Double Dash!! is coming to Mario Kart 8's first DLC pack, which is out in November. Yoshi Circuit also appeared in Mario Kart DS.
The pack includes eight new courses, three new characters, and four new karts. The new characters are Link, Tanooki Mario, and Cat Peach. Three of the new karts are the Blue Falcon from F-Zero, the B Dasher from Mario Kart 7, and the Master Bike, which is modeled after Link's horse Epona and one of the courses in the first DLC pack is Wario's Gold Mine. The below video shows off Yoshi Circuit in Mario Kart 8 and also highlights the fourth kart, which appears to be some sort of tanooki-inspired truck.