The first steps are made towards Capcom's massive projections.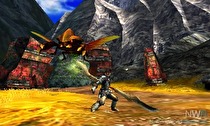 During its first week on the Japanese market, Monster Hunter 4G has sold 1,446,289 copies at retail locations. This comes from the Japanese sales tracker Media Create with the details translated by Siliconera.
Media Create mentions that roughly 85% of the total shipment sold through and that it expects the title to sell two million by the third week. In comparison, the original Monster Hunter 4 sold 1,715,060 during its launch week and that was 92% of the total shipment available.
Capcom has forecasted that 3.9 million copies will be sold by March 2015 worldwide. This should include the western release of the title, which is known overseas as Monster Hunter 4 Ultimate. A NA or EU date for that specific title has not been set in stone, but it is expected to release in early 2015.