Dress up your Palico as Mega Man and don some Tetsuya Nomura armor.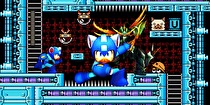 Mega Man is coming to Monster Hunter 4 Ultimate in cat form, according to a Capcom panel at New York Comic Con.
You can use Mega Man as a Palico, one of the helper cats in Monster Hunter 4 Ultimate. He uses a Rush Hammer and also makes the classic Mega Man death sound when he retreats.
Additionally, a Tetsuya Nomura Collection of weapons and armor is on the way. The gear is inspired by Final Fantasy summons and can be used with the Final Fantasy-inspired Palico.
Monster Hunter 4 Ultimate is due out in early 2015 on 3DS. This content will be out alongside it.