We probably won't be seeing a new Ice Climber game anytime soon either.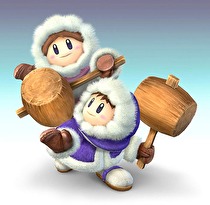 Masahiro Sakurai, the director of the new Smash Bros. games, stated the Ice Climbers were running on the Wii U version of the game, but were cut due to the technical limitations of the 3DS version. A higher priority wasn't given to the duo because the odds of a new Ice Climber game coming out in the near future is rather low.
Sakurai also went on to mention that the trophy descriptions found in the new games were written by Akihiro Toda. Toda is known for working on the Mother (Earthbound) series.
Additionally, Sakurai reiterated that the reason why the 3DS and Wii U versions were released at separate times was in order to give each game adequate time for debugging. If it had not been for this separate debugging process, both games would have likely been delayed until 2015.
All of this information comes from a bi-weekly column Sakurai writes in Famitsu.