The new mode is indeed set on making you experience quite the challenge.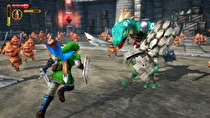 Hyrule Warriors will be getting a brand new Challenge Mode on the day that it drops, alongside a couple of additional enhancements.
Revealed today during the Nintendo Treehouse live stream, Challenge Mode plays a lot like Adventure Mode, just tougher—or "Adventure Mode on steroids," as the Treehouse members described. The update bestowing this mode also brings players the option to choose their preferred background music during play and adds a new weapon. A similar update to the Japanese version of Hyrule Warriors was released on September 1, and the weapon it added was a pixelated sword and shield harkening back to the original Legend of Zelda.
This content will be added via a free day one patch when the game comes out in North America on September 26.