Mega Man's first foray into the Super Nintendo is now available for the Wii U.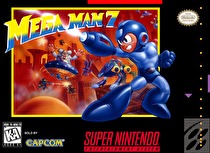 Mega Man 7 is now out for the Wii U Virtual Console.
The new release was announced earlier today during the Nintendo Treehouse live stream. Mega Man 7 continues the steady stream of classic Mega Man games on both the Nintendo 3DS and Wii U Virtual Consoles in the last month.
Originally released in 1995 for the Super Nintendo, Mega Man 7 continues the familiar formula of previous Mega Man games by having Dr. Wily send eight master robots out to attack Mega Man while incarcerated for previous crimes. It also includes the debut of Bass, the sometimes friend, sometimes foe of Mega Man.