You can also connect your 3DS to the Wii U to exchange custom fighters.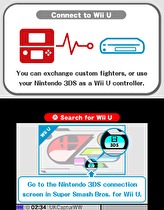 The 3DS can be used as a Wii U controller for Super Smash Bros. according to a menu option in the 3DS version of the game. Players can only do so if they own the 3DS version of Super Smash Bros.
Additionally, connecting the 3DS to the Wii U is a way to share custom fighters between the two systems, likely giving you the option to bring your customized roster with you when playing the Wii U version with friends.
Amiibo figures can also be used with Super Smash Bros. on 3DS, though it's unknown if they will be used in the same way as the Wii U version.