Teslagrad and Adventure Island highlight this week's releases!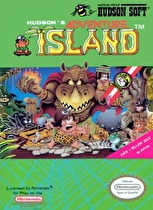 Another week, another sparse week of eShop. Perhaps we can chalk up this slow sumer to a series of big guns Nintendo is saving for the holiday season, but all we can do right now is hope that things start getting beefier as fall begins. This week's highlights include Teslagrad and the Virtual Console release of Adventure Island. I always thought Master Higgins had the best name out of any NES platformer character ever.
Wii U Downloads
Wii U Virtual Console
Nintendo 3DS Downloads
Hideaways: Foggy Valley - $4.99
Sales
The Super Smash Bros. sale this week highlights fighters like Zelda and Pit. A full report on this week's sales will be posted shortly on NWR.
Unepic is $7.99 through October 1. (Wii U)
Bit Boy!! Arcade is $4.99 through September 24. (3DS)
Parking Star 3D is $1.99 through October 2. (3DS)
Games from Rising Star Games, including Beyblade: Evolution and Girls' Fashion Shoot, are being discounted up to 75 percent. (3DS) Demos
Wooden SeN'SeY Parking Star 3D