A former artist's portfolio shows off the Luigi's Mansion 2 dev's concept of a Metroid game.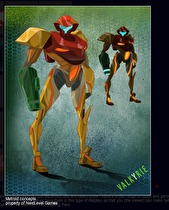 Next Level Games worked on a Metroid prototype before starting development on Luigi's Mansion: Dark Moon, according to a former artist's portfolio.
The images show off heroine Samus Aran and a few enemies, appearing to have a more cartoony style. It's not known how far into development this concept got, but it is known that Next Level Games was working on a different project with Nintendo in between the conclusion of Punch-Out!! in 2009 and the beginning of development on Luigi's Mansion: Dark Moon the following year.
Next Level Games is currently working on a project with Nintendo. All we know is that some sort of development started on it in late 2012.
As for the Metroid series, back at E3 2014, Nintendo's Shinya Takahashi said the company has been having internal discussions about the series' future.