One of DSiWare's greats will be soon gone forever, so act fast!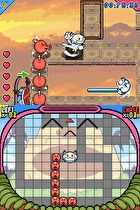 Go! Go! Kokopolo will be removed from the Nintendo DSiWare service on August 31. This is what CIRCLE Entertainment announced to GoNintendo.
The surprisingly entertaining DSiWare title featured colorful art and a zany mechanic that involved a cat running around, annoying other creatures so they would chase him, and then leading those critters to certain doom. Currently, there are no reasons given on why the title will be removed, but the removal will be permanent, CIRCLE confirmed.
There was a sequel announced to Go! Go! Kokopolo two years ago and this would come to the Nintendo 3DS eShop. There have been very little updates on the development of the sequel however, and it's future remains uncertain. 80 new stages, 10 new boss fights and multiple playable characters were promised, but this removal could be a sign of things to come.