The only game to kill more friendships than Mario Party gets a new Legend of Zelda theme!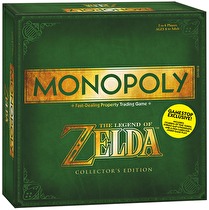 As of September 15, GameStop will be selling an exclusive version of the new Legend of Zelda themed Monopoly from game publisher USAopoly. It is currently available for pre-order through GameStop's website.
This special GameStop edition will include all of the standard game features, such as a custom designed game board sporting Zelda themed locations in place of traditional Monopoly properties, Zelda rupees for game currency, Deku Trees and Deku Sprouts for the game's hotels and houses, Empty Bottle and Treasure Chest cards, and six game tokens. GameStop's version will offer a special Ocarina of Time game token in place of the regular version's Slingshot, as well as an 11" x 17" Hyrule Map Lithograph, a Treasure Chest Holder and six Item Power Cards, including Goddess Harp, Wind Waker, Minish Cap, Spirit Flute, Phantom Hourglass, and Ocarina of Time.
USAopoly first announced their Zelda themed Monopoly earlier this year. They simultaneously revealed the details of a new Pokémon version, set in the Kanto region, which is slated to release sometime next month.