Do you know what a Justice Beaver is?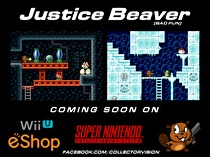 Indie game developer/publisher Collectorvision is releasing two games onto the Wii U eShop along with cartridge copies for the Super Nintendo Entertainment System.
Not much has been said about these games other than their titles: Justice Beaver and Sydney Hunter & The Caverns of Death. Their cartridge releases on the SNES are not as surprising as you may think when you take a look at Collectorvision's background. They have worked on many games including new releases for the Atari 2600, Colecovision, and Intellivision.
Other Sydney Hunter games are currently in development for multiple retro systems including the NES and Sega Dreamcast.