Attempt to connect into this week's Downloads...successful!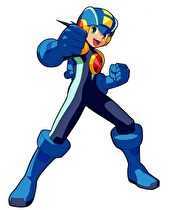 Not necessarily a slow week, but nothing completely stands out, either. The big release this week is the Virtual Console re-release of Mega Man Battle Network. Hope you guys like a lot of Battle Network as there are five sequels to go before the Virtual Console collection is complete. With so many Mega Man games existing, maybe taking a breather for a decade or two is actually a pretty good idea. But hey, at least we'll get tons of Mega Man doodads and shirts for years to come.
Nintendo 3DS Downloads
Frederic: Resurrection of Music
Steel Empire
Tangram Attack

Wii U Download Software
Ice Cream Surfer
XType Plus
IQ Test
Soul Saga

Wii U Virtual Console
Sales
Assassin's Creed IV: Black Flag on the Wii U eShop is $29.99 through August 4.
Darts off 3D is $0.99 on the 3DS eShop through August 20.
Sweet Memories- Blackjack on the 3DS eShop is $2.79 through August 21.
WAKEDAS on the 3DS eShop is $1.99 through August 21.