New info emerges from the latest Nintendo Direct in Japan.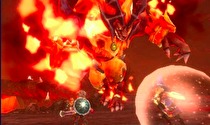 Fresh gameplay details for the new 3DS action RPG from Square Enix, Final Fantasy Explorers, were shown off in the latest Nintendo Direct in Japan.
Set for release this winter to Japanese audiences, Explorers will allow gamers to play with others locally or online. The game relies on a job system and will feature the likes of Knights, Monks, Archers, Black Mages, Paladins and more. Summons will also play a part in the battle system. The latest video footage of the game showed players taking on a variety of different monsters ranging in size.
There is currently no word about a release for Final Fantasy Explorers outside of Japan. To see more about the game, check out the video below. It's highlighted from the beginning of the Direct until about the 3:44 mark.