Square Enix's popular online RPG is 3DS bound this September.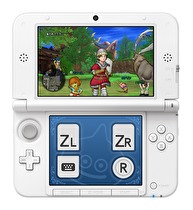 Dragon Quest X is coming to the Nintendo 3DS in Japan on September 4. Square Enix is utilizing cloud streaming to make it possible to play the game on Nintendo's handheld as long as the device is connected to the internet via Wi-Fi. The 3DS version will also allow for cross platform play with the Wii, Wii U and PC versions of the game. The 3DS version of Dragon Quest X does not support the stereoscopic 3D feature.
Dragon Quest X on 3DS will run gamers 3,800 yen and will also require a monthly subscription. A three day pass will run gamers 350 yen, a ten day pass is 650 yen and a 30 day pass is 1,500 yen. The game comes with a free 60 day pass.
There is currently no word on a release of the game on any platform outside of Japan.