To fill the dog-shaped hole in your heart.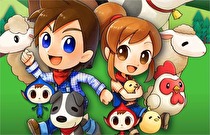 Pre-ordering Harvest Moon: The Lost Valley from GameStop will earn gamers a Harvest Moon dog plush as an exclusive bonus. The plush itself will resemble the player's dog from this specific Harvest Moon title, with a new short-eared, gray and white look as opposed to the classic dog fans are used to.
The newest Harvest Moon releases on October 21 with a price tag of $29.99 and is available now for pre-order online and in stores. Online customers will receive the plush with their order in the mail while those who choose store pick-up will receive it at the counter. This bonus will only be available while supplies last.