Bayonetta will be able to don Daisy's dress in the first Bayonetta on Wii U.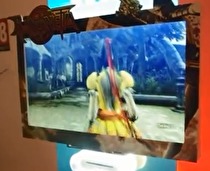 Bayonetta will be able to wear a Daisy costume in the upcoming Wii U version of the original Bayonetta, according to gameplay footage from a post-E3 event in London.
Other wearable costume, including Samus, Link, and Peach, were confirmed back at E3 2014 when it was revealed that Bayonetta, first released in 2009 on Xbox 360 and PlayStation 3, was going to be bundled in with Bayonetta 2 when it comes to Wii U this October.
Daisy appears to have a similar theme as Peach, as they both use Bowser limbs for Bayonetta's unique giant hand and foot punches and kicks. You can read more about the different additions to the original Bayonetta in our E3 2014 preview.