Fight against evil vegetables in this sidescrolling shooter!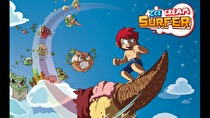 Dolores Entertainment, a studio which is based in Barcelona, is bringing their title Ice Cream Surfer to the Wii U eShop in the near future.
The game is a sidescrolling shooter, where you will travel to the Gourmet Universe and destroy various vegetable enemies in a number of worlds. For some additional flavour, Ice Cream Surfer offers five playable characters and each have their own special abilities. At the end of each world, you will duke it out against a giant boss and this guarantees spectacle according to the developer. Dolores also mentions that the game features 16-bit graphics, which are drawn pixel by pixel for good measure.
A date for Ice Cream Surfer on Wii U is not known, though the game has been rated by PEGI and the USK. You can already find the game on iOS devices and the PC service Desura.