There are other new details regarding classic Zelda items and characters set to appear, and some new trailers, too.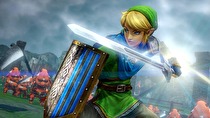 Agitha from Twilight Princess and an original character named Lana the White Witch have been revealed as playable characters in Hyrule Warriors, according to information originating from Famitsu.
Agitha battles armed with a parasol and can also summon and attack with insects, as is befitting the self-proclaimed Princess of Bugs. Lana fights by using a magical book, forming barriers to push enemies away. Should the barriers be destroyed, the resulting shock can cause damage to her.
Famitsu also referenced the inclusion of the long-time Zelda item known as the Hookshot, which allows characters to gain access to previously inaccessible areas. Twilight Princess bosses Argorok and Zant are slated to make appearances in Hyrule Warriors in some capacity, as well. The former was the boss of that game's City in the Sky dungeon, while the latter was one of the main antagonists.
Tecmo Koei has also put forth a couple new Japanese trailers in recent days, one featuring Impa's swordplay and the other showing off the power of the Fire Rod. Check them out below.