Nintendo's president is still on the mend.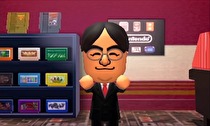 Nintendo President Satoru Iwata will miss this week's annual shareholders meeting due to his ongoing recovery from surgery to remove a growth from his bile duct, according to a letter to shareholders put forth by Iwata.
The surgery was necessitated when the growth was discovered during a routine examination. Iwata notes that this particular malady can be quite difficult to treat, but he was lucky in that the growth was detected early, before he had experienced any symptoms.
The operation went well and Iwata is already back to work in certain capacities, such as conducting business via email. However, additional time is needed for him to return to his regular duties. He recently missed E3 due to an unspecified medical issue, an absence which we can now likely attribute to this situation.
The 74th Annual General Meeting of Shareholders is set to be held in Japan on June 27.