The 2DS-centric Nintendo showcase will set up for weekend-long stays in a different city each week.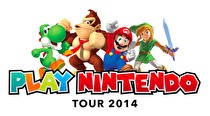 Play Nintendo Tour 2014, a traveling family-friendly event highlighting the 2DS and a selection of its most well-regarded titles, has begun. The tour will stop in a different city every weekend up through September 1.
The event seems to focus on the 2DS as an ideal entry point for gamers of all ages, and some of the most popular titles available on that system will be playable, including the following:
Kirby: Triple Deluxe
Yoshi's New Island
Pokémon X and Pokémon Y
The Legend of Zelda: A Link Between Worlds
Super Mario 3D Land
Donkey Kong Country Returns 3D
Mario Kart 7
A selection of costumed characters will be on hand, including Mario, Luigi, Donkey Kong, and Kirby. Attendees can also experience different areas with decorations themed around iconic Nintendo franchises such as Donkey Kong, Pokémon, Yoshi's Island, and Mario Kart.
In the latter area, there will be a Mario Kart competition. Qualifying rounds will be played on Mario Kart 7, but winners can potentially earn the right to take the main stage and play Mario Kart 8 on a giant TV screen.
The schedule for Play Nintendo Tour 2014 can be found here.